In this article, I want to talk about how to install the AltSpace Web Projector and successfully connect it using the Microsoft Edge browser.
BEFORE YOU READ THIS: Read the official guide – https://docs.microsoft.com/en-us/windows/mixed-reality/altspace-vr/tutorials/web-projector-streaming
Instead of re-writing the official article, I have filled in the gaps as some of the guides can be tricky to follow, so I've tried to recreate the guide using more images and using different words to try and help people still having trouble.
AltSpace Web Projector Installation
[wpvideo kF1W5LtK]
Use simple email addresses associated with your account
I learned this lesson the hard way when I used an e-mail address with a + sign in the email address. It doesn't get parsed through AltSpace authentication, so you can literally be logging in with the same password and email and not be able to get in. This is true with the AltSpace Unity builder uploader, but also, according to Dargon on Discord, it affects projectors as well.
Caution With Mac Users
I have heard reports that the Mac supported version is very glitchy and often doesn't work for Mac users entering a room and viewing the video. I don't have a Mac, so I can't comment on the specifics. I just know there are a lot of issues that support have acknowledged and is working through.
https://aussieguy92.com/using-altspacevr-with-the-mac-os-client-download/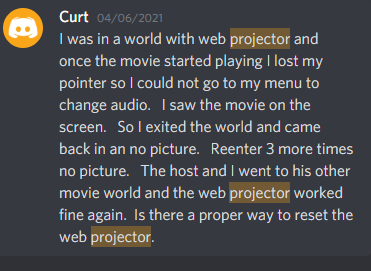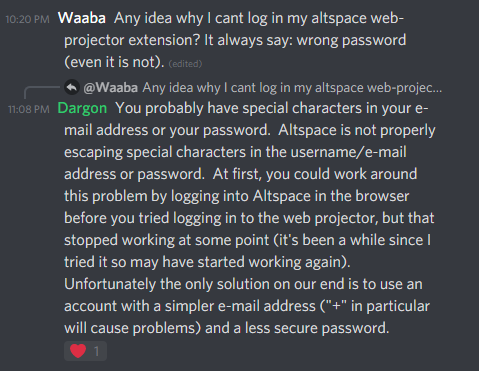 Troubleshooting Checklist
You have the latest Windows 10 updates and Edge browser updates (test this by seeing if you can install Chrome plugins via Edge browser).
Update your edge browser plugin
Make sure you are logged in, and your email address does not use special characters like '+,(,),*' etc.
Ensure your AltSpace client is up to date
You have clicked broadcast on your player to broadcast to the room. When you connect it, only yourself will see it, and you will need to ensure the broadcast is clicked. There will be two green dots on the projector to indicate that you are streaming.
If this doesn't work, try visiting https://docs.microsoft.com/en-us/windows/mixed-reality/altspace-vr/tutorials/web-projector-streaming one last time to see if there are any tips missed from my article. If nothing else works, you are better off submitting a support ticket.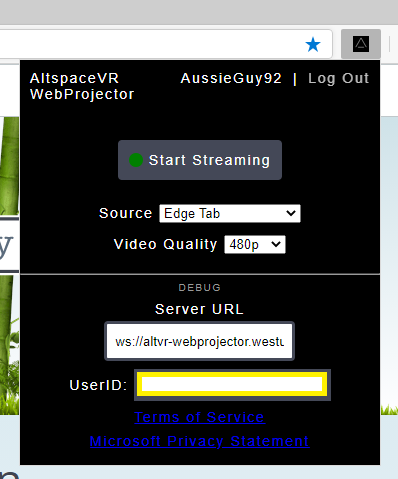 The only browser addon available as of Feb 2021 is the Edge browser addon.

I've heard people discuss the 'Chrome' addon and I hadn't heard anything about it. After Googling, I found an old page indexed on Google that redirects to the Edge page. It's apparent that in the past a Chrome plugin was supported but later discontinued. I wanted to add this because there are people still searching for it according to Google trends.
Video Tutorial – Alternative Guide
Step 1:
The first thing you need to do is to make sure that your edge browser is up-to-date so run any Windows updates if required. The second thing you need to do is you need to go to the AltSpace website and download the package that's required to be loaded into Microsoft Edge as a developer.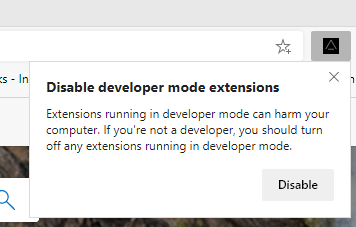 AltSpace Update December 2020 to existing media console.
Starting on January 1, 2021, we will officially be sunsetting YouTube support through our Multimedia Console due to service compliance incompatibilities. This change will also affect any user-built MRE's that currently allow YouTube as a video-streaming option.
We know this affects many events and are working to offer more options for streaming music content. You can still stream YouTube videos using our Web Projector and we hope to make this feature more user-friendly in the near future. If you want to use the Multimedia Console for playing music, we recommend exploring other video-streaming platforms that are compatible with the Multimedia Console, such as dlive or Twitch. We'll continue to evolve our Multimedia Console and hope to bring more platforms to the player in 2021.
You can read the full article here but it is worth mentioning that the old video player is probably still being sought for, so anyone reading this looking for the old YouTube player you may find another developer might create a new one that works but it's only speculation at the moment.
Videos on AussieGuy92.com
---