AltSpace have a team of 'community helpers' that help keep the peace across the AltSpace network. Because of the size of the network AltSpace staff cannot be in every room listening and policing every situation. This is not only against privacy laws across the world and in the United States to have this degree of chat monitoring but it also doesn't make the community feel welcome.
AltSpace Community Helpers are volunteers and not employee's of either AltSpace or Microsoft. However, some staff from the former AltSpace team are still active and carry a community helper status but they don't misrepresent themselves.
What do AltSpace Community Helpers do?
Community helpers are just like any other non-staff user on the network but they do have a few tools up their sleeve and at that community status, there are private channels a community helper can go through to get a staff member's attention quickly if the need arises. Community helpers are often world builders, creators, artists, event hosts, and MRE builders who are very well established and connected within the community.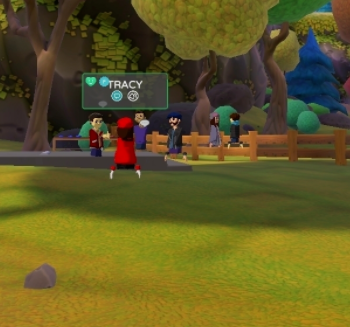 Community Helper Privileges
Vote to suspend – "The Vote to Suspend feature is available, exclusively to AltspaceVR's Community Helpers. It's a moderation tool to help keep AltspaceVR welcoming, safe, and mature. Vote-to-Suspend allows Community Helpers to flag anyone who is in violation of our Community Guidelines. Below are the official rules and responsibilities associated with the Vote-to-Suspend ability." https://docs.microsoft.com/en-us/windows/mixed-reality/altspace-vr/community/community-helper-guide
Access to private Discord Channel
Access to certain community announcements early
Opinion: The glam of being an AltSpace Community Helper
Community helpers have green badges around their names that can be toggled on and off. This can sometimes confuse new people as sometimes they think they can offer support that they can't for instance password resets and complex account troubleshooting.
Also, community helpers don't always have technical skills, some are confident in hosting events but don't have a clue to help troubleshoot Unity.
Although community helpers often stick together, there's no 'rockstar' status that comes with the role that I've experienced in other online communities in similar community equivalent ranks. So if you think this will inflate your status and ego you may be disappointed. There are equally as many helpful people who create awesome worlds, kits and mres without the status so it would be true to say that if you create and do wonderful things people will remember you.